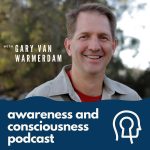 A human being is a complex organism that combines, Spiritual, Physical Body, Consciousness, Mind, Gender Energy, Emotions and a Soul. Getting all of those energy aspects working together can be quite a process.
This is made more complex by trying to do it in a world that is beautiful yet frighteningly chaotic, vast, cold, and unknown.
I hope what is shared here helps provide a map or model for some of the aspects to understand, integrate, and make your peace with so you can live your life with more love, gratitude, and happiness.
this is an interview of Gary van Warmerdam by Daniel Moor.