October 11 – 17 2020
Arrival: Plan to arrive at the Mexico City airport before 3:00pm Sunday. We will have an early dinner and Class will begin that night.  The formal teachings will finish with a ceremony and processes early Friday afternoon. Then we relax and enjoy the afternoon and evening, fiesta,  finish any shopping and rest before our Saturday departure.
Departure: Plan for your return flight to depart after 12 noon on Saturday if possible. If you need to return on an earlier flight, arrangements can be made to get you to the airport when needed.
Taxi ride to the airport outside the normal arrival and departure window will incur additional fee of approximately $60 US.
A typical day:
7:30 Optional yoga/body time/meditation
(Everything is optional as we respect individual choices as some people like to sleep in a bit more.)
8:30 Breakfast
9:45 Depart and walk to the grounds.
Several hours mixed with contemplative meditations, ceremony, discussion, emotional processing, and teachings.
2:00 Return to the Dreaming House Hacienda
3:00 Large home cooked meal of excellent food
Then have some free time on your own to rest, reflect on the day's process, journal, get a massage, socialize, shop in town, or check your email on the wifi.
6:30-8:30 Evening class at the Dreaming House
After class we have a light dinner/snack and share with others about the day, and the journey.
There may be some variations to this, but this is a good guideline of what to expect for a typical day.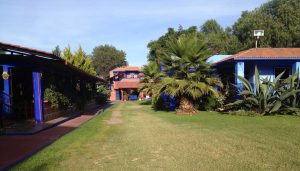 Lodging will be at the beautiful Hacienda we call "The Dreaming House". We believe in making our physical bodies as comfortable as possible on our journey. I don't believe in suffering in order to gain spiritual growth or happiness. It just goes against the overall goal of enjoying your life. If you do not have a room mate, and opt for a double occupancy room, a room mate will be assigned. (This is what we mean by "double occupancy").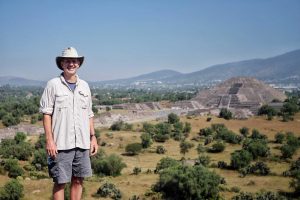 Gary van Warmerdam has led numerous Spiritual Journey's to Teotihuacán over the years. His experience in guiding these journeys comes from 20 years of personal study with don Miguel Ruiz. Miguel Ruiz is a Medical Doctor that studied the spiritual traditions from Mexico as well as traditions from around the world. He is also the best selling author of "The Four Agreements", "The Mastery of Love" and "The Voice of Knowledge". Gary's experience and teachings from his Mentor are both extensive and profound.
The ancient Toltec city named Teotihuacán means "where humans awaken from their illusions and realize their Divinity". Teotihuacán (Teo) was designed and built as an ancient mystery school for teaching spiritual philosophies and practices. The students of this school became spiritual masters and their teachings influenced the culture of the Maya, Aztec, and other civilizations. Teotihuacán is 40 miles Northeast of Mexico City, Mexico.
The Pyramids at Teotihuacán are the largest pyramids in the western hemisphere.  They are larger than Chichen Itza. The base dimensions of the Pyramid of the Sun is roughly equal to the base dimensions of the Great Pyramid of Giza in Egypt.
The weather in Teotihuacan in October will be very comfortable in the 70's (F) during the day. Low's at night will be in the 50's. There is sometimes a chance of showers in the afternoon. The elevation is about 7200 feet with nice mild weather throughout the year. If you want to check the weather you can look up Mexico City and you will have a good approximation of how to dress.
$1495.00 (USD)
The price includes double occupancy room, food, water, entrance fees, ceremonies, teachings, and ground transportation to and from the airport for the scheduled times. It does not include your airfare to Mexico City, alcohol, or transportation to the airport outside of scheduled group times.
If you wish to have your own room a a $300 surcharge applies.
The Integration Course – October Dates TBD
We are offering an add-on course to support the spiritual journey to Teotihuacán, where you will get time and support to process the shifts and revelations you have experienced during the past week. For many the spiritual journey is powerful and we might feel like a new person by the end of it. Returning home to our everyday life can be challenging. How do we make changes that we feel are necessary when bills need to be paid and friends and family still play by old patterns? The Integration Course is a follow on process to integrate the changes smoothly.
Details of dates and times for this portion are being planned now.